BECCA Enigma Eyeshadow Palette
Today on The Lovely Nerds I am bringing you a review of Becca's Enigma Eyeshadow Palette. Want to see more? Keep reading -->
I have featured this product in a favorites post before, and trust me, it earned its place as a favorite. The Enigma palette is a discontinued palette, and from what I hear is about as difficult to find as unicorn pee.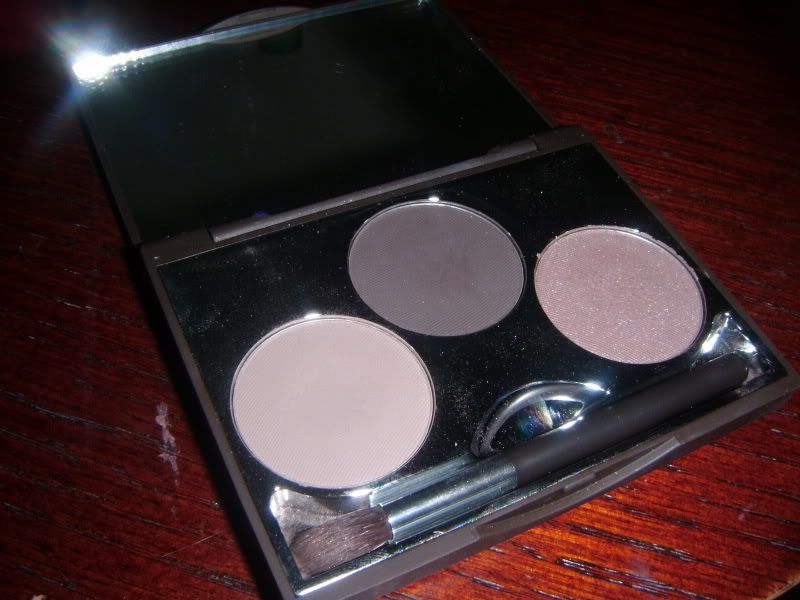 This palette was available at BECCA retailers and etailers and sold for a price of $65.00 plus tax/shipping. Enigma is a nice compact trio of eyeshadows in the shades Armure(matte), Silesia(matte) and Surah(shimmer). The shadows are 1.6g each except for Silesia, which is 2g. It also comes with a tiny eyeshadow brush that is surprisingly, not entirely useless.

Swatches, left to right:

Armure, Silesia, Surah.
Armure always brings the word moleskin to mind when I see it. It is a sheer, light greyish tan color. It has much more pigment on the eyes than it does on my arm.
Silesia is a deep, dark brown. The same as Armure, the pigment is much better on the eyes than on the arm. I usually use this color as a liner. I have heard of someone using it as an eyebrow filler.
Surah is a warmer, shimmery version of Armure. Honestly, on my eyes they look almost identical.
This palette is that "im too lazy for creativity" or "im running out of time" go-to type of palette. I love the feel of the shadows, the pigment looks great on my eyes with or without a primer or base.
THE GOOD:
« The pigment.
« The lovely colors.
THE BAD:
« The price and fact that it has been discontinued.
ITS JUST ALRIGHT:
« The packaging. I have issues opening it from time to time.
OVERALL:
If you have patience, $$ to spare and are a neutral hoarder, you need to track down this palette.
Rating:
Use: 5/5
Packaging: 3/5
Price: $$$
Repurchase? Yes.