SWATCHES - BLUSH COLLECTION
Today on The Lovely Nerds I am bringing you another swatch post! Today's is featuring my blush collection. Want to see more? Keep reading-->
Let's start off with the Mac Powder Blushes.
L to R we have: Mac Peaches, Pink Cult, Bite of an Apple, Hipness, Dainty and Ripe Peach. I'm not a huge fan of shimmery blushes, I tend to prefer matte or satin finish blushes. The only one listed here that is shimmery at all is Dainty, the only mineralized blush I own.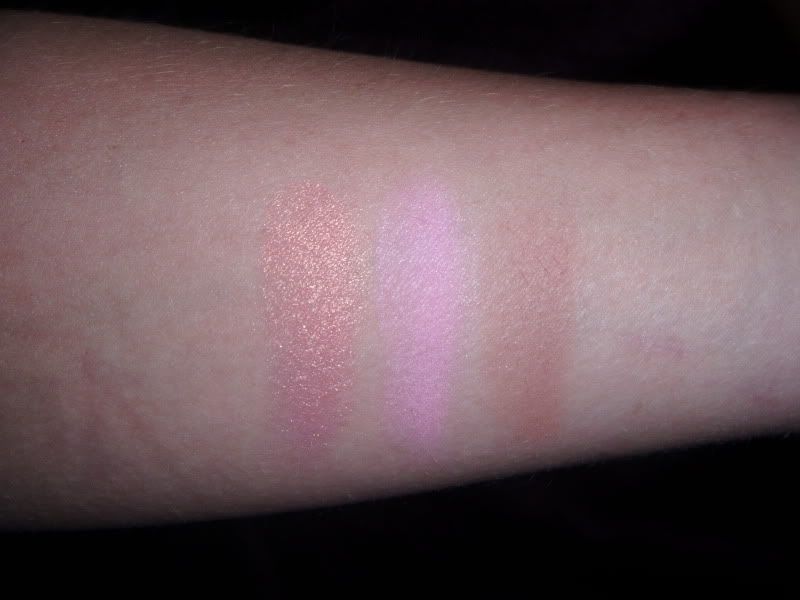 Here are the Nars Powder Blushes, methinks I need more of these.
L to R: Orgasm, Gaiety and Douceur.
Some cream blush swatches.
L to R: Mac Florida, Mac Ladyblush, Nyx Boho Chic, Nyx Glow, MUFE Quickie (I believe. It's a sample size with no color label on it.)
Nyx Cream Blush Sticks. Gotta love 'em.
L to R: Pink Lotus, Tea Rose, Pink Poppy, Hibiscus, Orchid.
Illamasqua Tremble, Illamasqua Panic, Benefit Hervana (it's there, I swear. Just really light.)
Mac Lightscapade, Too Faced Milk Chocolate Soleil Bronzer, Too Faced Pink Leopard Bronzer, Benefit High Beam, Benefit Posie Tint, Benefit Benetint (me and this one just do not get along.)
COMING UP
ON
The Lovely Nerds:
« Depotted Urban Decay Palettes

PREVIOUSLY on The Lovely Nerds:
« FOTD using Sonia Kashuk Instructional Palette