FOTD - SONIA KASHUK INSTRUCTIONAL PALETTE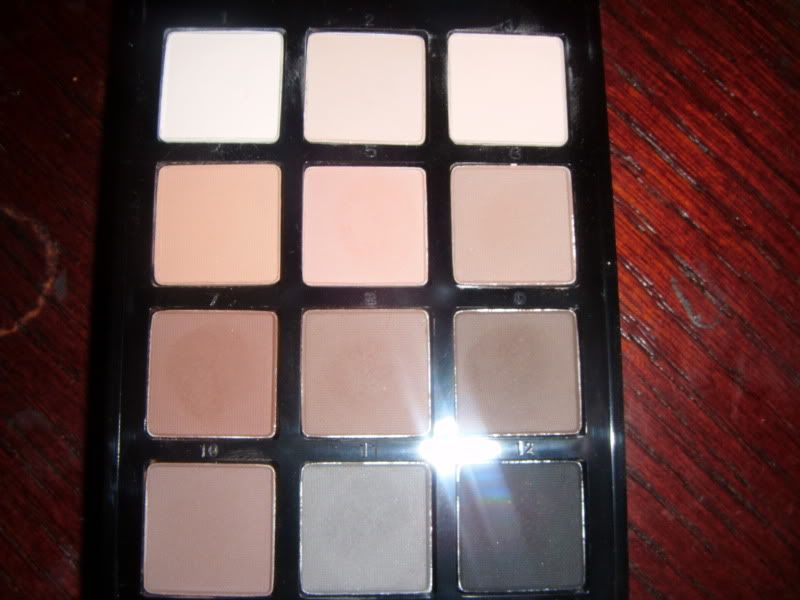 Today on The Lovely Nerds I am bringing you a quick FOTD using the Sonia Kashuk Instructional Palette I reviewed in the previous post (link at bottom of the page). Forewarning -> TERRIBLE, gloomy and overcast lighting. You were warned. Lol. Want to see more? Keep reading -->
Ah, The first poorly lit picture :D Today's look is featuring the Sonia Kashuk matte neutrals palette I recently acquired. It's a lightish, smokyish eye that is easily wearable during the day. Now, I don't claim to be a master at makeup application so this is not a SPECTACULAR look, but I feel it is easy to do.
I didn't really have any inspiration for this look, except perhaps the horrible gloomy clouds outside. (Ooh, those eyebrows... they need a little help!)
A close-up of the eye look. I used the shade that matches my skin tone all over from lashline to brow bone. I placed the grey onto my lid using a packing motion to get it to go on evenly. I placed a cool, medium brown in the crease and blended it up. I used a light flesh tone for the brow highlight and then added a bit of Mac Lightscapade to the center, right under the arch of my brow. I used the same medium cool brown on the lower lashline and the white on the inner corner. The eyeliner is UD Perversion pencil liner (i have a love-hate relationship with this product. I love it, it hates me.) The mascara is Benefit They're Real and the brow filler is Elf's Studio Brow kit.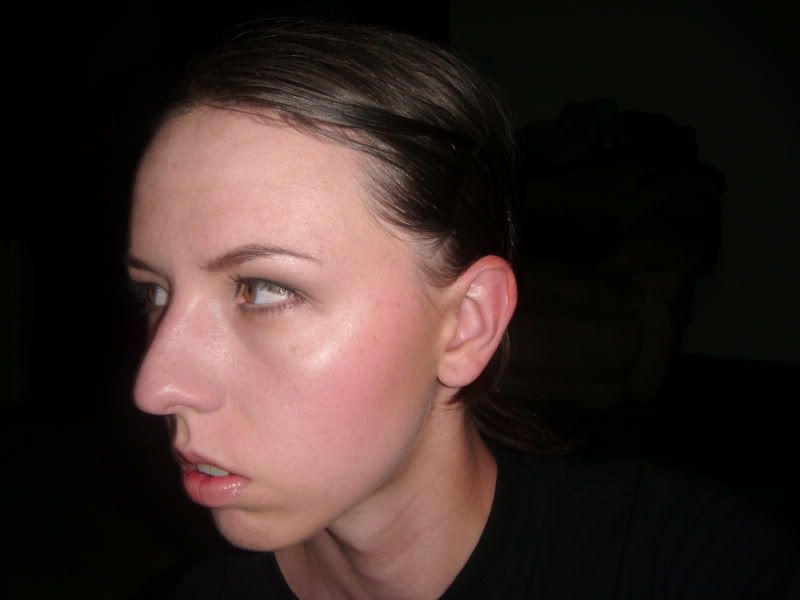 (This is an awful picture of me, I'm sorry! lol) I took this picture to show off the cheeks. On the cheeks I have Mac's Ripe Peach, Lightscapade as a highlight and a bit of Too Faced's Milk Chocolate Soleil Bronzer under the blush.
The other products I used today were Maybelline Dream Liquid Mousse foundation (it has a bit of a white cast in flash photography, hence the super pasty forehead and patch on my neck) and on the lips I have Revlon Creamscicle lip butter with Mac's Faerie Glen lipstick over it. Not sure how I feel about nude lips on myself. No concealer, probably could have used some under them eyes!
Sonia Kashuk Instructional Eye Palette - #'s 1 (inner corner), 2 (all over from lashline to brow), 3 (brow highlight), 9 (crease, lower lashline), and 11 (lid color).
Maybelline Dream Liquid Mousse Foundation
Too Faced Milk Chocolate Soleil Bronzer
Revlon Lip Butter in Creamscicle
Mac The Faerie Glen lipstick
UD Perversion pencil liner
Benefit They're Real Mascara