REVIEW - Mac Brush Cleanser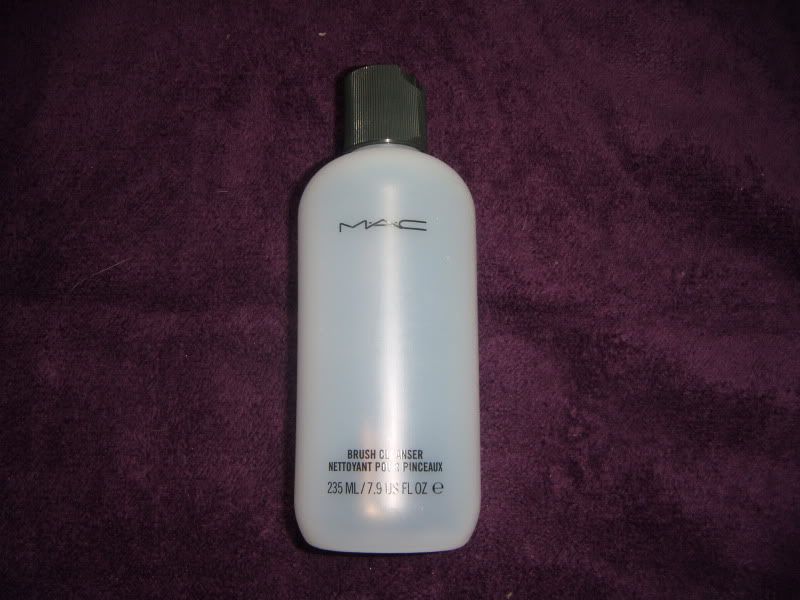 Today on The Lovely Nerds I am bringing you a review of Mac's house brush cleanser. Want to see more? Keep reading -->
This cleanser retails for $13.00 for 7.9 FL Oz of product and is available online at www.maccosmetics.com, Mac Counters, free standing stores and Pro stores.
What Mac has to say about it:
This one product will clean, disinfect and condition the brush fibers so that brushes will last longer. It is convenient to use and is specifically designed to extend the life of high quality brushes. Brush Cleanser leaves your brushes smelling fresh and clean, and helps shorten their drying time.
I go through a bottle of this every couple of months. Yes, there are cheaper alternatives out there and you can even make your own at home with products you likely already have. I just find that this one does the best out of all that I have tried.
It does smell a bit of alcohol, if you can't tolerate the smell of alcohol I would not recommend picking this up. It cleans your brushes very well and disenfects them. Once used on a brush, the brush is dry and ready for use in a matter of seconds. It is because of that that I use this product exclusively to spot clean my brushes in between uses. I deep clean once a week with Dr. Bronner's baby bar soap.
I have had no negative experiences with this product and feel that it is worth the $13.00 price tag.
THE GOOD:
« Works great.
THE BAD:
« Price is a bit steep for a colored alcohol mixture.
ITS JUST ALRIGHT:
« The smell.
OVERALL:
Great product, definitely a staple for me.
Rating:
Use: 4/5
Packaging: 4/5
Price: $$
Repurchase? Yes.