MAKEUP COLLECTION -LIPS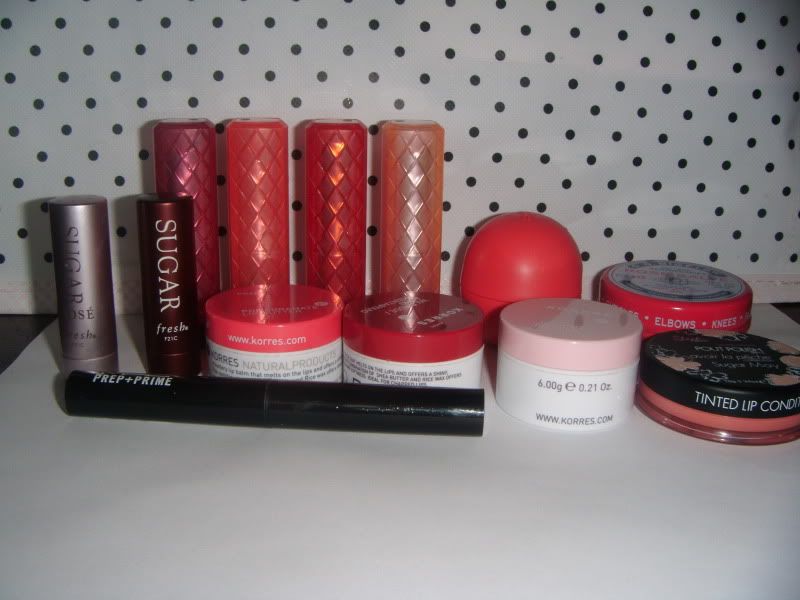 Today on The Lovely Nerds I am bringing you the third installment of my Makeup Collection. Today we are focusing on the lip products, my favorite. Want to see more? Keep reading -->
To start off, We have Lip Balms. Revlon lip butters in Raspberry Pie, Tutti Fruitti, Candy Apple and Creamsicle. Korres Lip Butters in Pomegranate, Wild Rose and Jasmine. EOS lip balm. C.O. Bigelow Rose Salve. Fresh Sugar Lip Treatment minis, Sleek Sugar May lip conditioner, Mac Prep + Prime lip.
Now for the reds: Mac Lady Bug, Cyndi, Baby's on Fire, Kat Von D Underage Red, Hellbent.
Pinks, Definitely my most populated color family. Mac Angel, Candy Yum Yum, Pink Plaid, Impassioned, Syrup, Bath and Body Works lippie, Kat Von D Celebutard, Lolita.
Berry/Wine and Mauve. Kat Von D Rosary, Benefit Ms Behavin, Tarte Moody, Kat Von D Cathedral
Everything Else! Mac VG Nicki, Gaga 2, Faerie Glen, Lavender Whip, Asian Flower Sheen Supreme.
COMING UP on The Lovely Nerds:
PREVIOUSLY on The Lovely Nerds:
« Review: Neutrogena Makeup Remover Wipes